Are you an ardent traveler & amp;love adventure? If your answer is a big YES, then the right time to travel and explore any place that you think or dream of is before 40. It is necessary to make use of energy, strength and stamina at this young age to roam around the places to see its beauty and to make the most memorable recollections for lifetime. So, it is better to explore when you are still zealous and energetic than regretting when you grow old.
India is one of the most beautiful countries with exotic places and you need to explore its various scenic beauties before you turn 40. The spotless beaches, snowcapped mountains, hill stations, desert and historical monuments throughout the nation can take your breathe. The nation bears a striking geographical diversity and is able to satisfy any traveler from any part of the world.
Let this article be your traveling guide to gateways that you can indulge into before you hit 40:
Leh for adventurous bike rides: A trip to Leh via road is a dream to any youngster and this can be one of the best trips of your life. It needs immense energy and stamina because the journey is not like any other. If you are a bike ride lover & want to experience insane adventure, then this can be one of the first on your bucket list to explore Leh Palace, Shanti Stupa, Dras and Sankoowith your loved one or friends too.
(image reference: leadventureplanners.com)
Goa for Party Lovers: This is one of the tourist places that every individual dream of visiting at least once in his or her lifetime. It stands 6th in the Top 10 Nightlife cities in the world in a National Geographic Book. So, make it a point to spare some time to visit its pristine beaches, churches and temples with your crazy gang.
(image reference: tripsavvy.com)
The pass has become infamous for long traffic snarls with jams at times ending up after 12 long hours. The road remains jam-packed and delays are inevitable. Traffic jams are common as military vehicles, trucks, and goods carriers try to navigate the tight roads and rough terrain, compounded by snow and ice at certain points and the large number of tourists' vehicles. Long que of tourist vehicles has become a daily scene on this stretch. The road is cut into a mountain, and screws up to the pass, at places it is marginally narrower than a truck, a misstep and a certain death falling into the valley. While crossing the road you can also see all the trucks which were not so lucky and fell down into the valley. Plus the road is in dreadful condition and requires strong nerves to negotiate it.
The road also featured on IRT deadliest roads.
Grand trunk road
The Grand Trunk Road is India's oldest road, and one of the longest and oldest roads in asia, spanning across India, Pakistan and Afghanistan. The road covers a distance of over 2,500 kilometres (1,600 mi). It was built by Sher Shah Suri. During the British rulers of colonial India, the road was renamed as the Grand Trunk Road. The historic relevance of the road might put the historic route 66 to shame.
(image reference: shutterstock.com)
The peculiar thing about GT is that is considered dangerous not because of its elevation or bad road conditions, but because of the most uncertain traffic. You mustn't be surprised when your car gets into a traffic jam, created by dromedaries using one of the lanes. Trucks, buses, bicycles, pedestrians, and animals have turned parts of this heavily-used road into a major headache. If you're planning to drive here, you'll want to be as alert as possible, accidents as crazy as peacocks flying into the windscreens have been reported. GT road accounts for seventeen percent of read accidents in Delhi (and Delhi does not even have that many peacocks), and in listed in the killer roads list by CSE India Org.
One might negotiate with narrow and the sludgy roads of the high mountain passes, but accidents caused due to animals or humans can be as inevitable as fate.
Coral Reef, Lakshadweep : It is located on the West Coast of India and has been a tourist attraction since 1974. Its main source of income is tourism for decades&attraction is the water sports such as canoeing, wind-surfing, water-skiing and scuba-diving through the coral reefs.
(image reference: jnrglobetrotters.com)
Rishikesh for River Rafting : Rishikesh is known for its unfathomable rapids of the river. So, if you are an adventurous personality and want to experience the awe of nature then river rafting here is a must try. Apart from river rafting, bungee jumpingin Mohan Chatti village is also the eye-catcher for the visitors &is one of the best bungee jumping providers of this place. Feel the gush of air on your face to make this trip unforgettable.
(image reference: tourmyindia.com)
Andaman Islands for Scuba Diving : It's high time to make your dreams come true by swimming with the colorful fishes and tortoises in this island. The crystal-clear water rejuvenates an individual. Try scuba diving at the stunning Andaman and Nicobar Islands to experience the life inside water.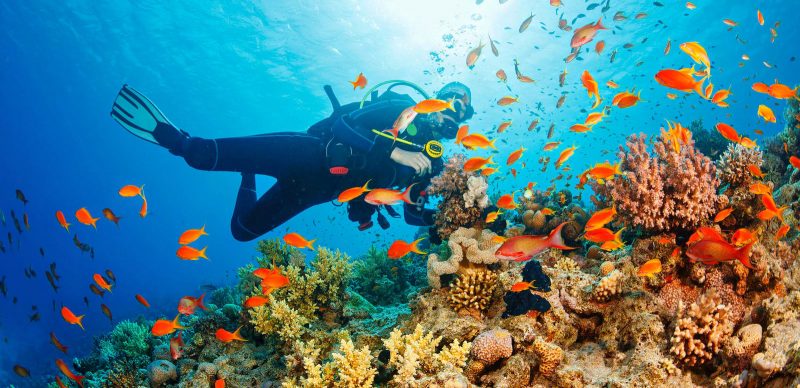 (image reference: thrillophilia.com)
Adobe of the Clouds, Cherrapunji : This is an astonishing location with a year-round rain and swirling clouds, foaming rivers and misty valleys that take your breath away.
(image reference: nativeplanet.com)
Great Rann of Kutch, Gujarat : It is situated in the Thar desert, being the largest salt desert in the world gives its touristsan authentic taste and feel of the culture, cuisine and unconditional hospitality from the locals during the festival called Rann Utsav celebrated between December to March.
(image reference: tripsavvy.com)
Khajjiar, Himachal Pradesh : This beautiful hill station is located on a small plateau in the Chamba district of Himachal Pradesh which is surrounded by dense forests, covered by snow-capped mountains and located by a lake. It is known as Mini Switzerland as it's a pinnacle of scenic beauty.
(image reference: traveltriangle.com)
Allepey, Kerala : It is one of the oldest planned city in Kerala referred to as 'Venice of the East' by Lord Curzon. This district receives the highest number of tourists throughout the year because of its picturesque canals, beaches, lagoons and rich heritage of the state. It is famous for boat house and mouth watering sea food. It is a must in your bucket list.
Valley of flowers, Uttarakhand : Valley of flowers is the most eye-catching sights across India and globe. This valley is equivalent to a heavenly bliss encompassed with green pastures and multicoloredhill slopes. Tourists can reach the spot via roads or a trek of about 17 kilometers.
(image reference: bizarexpedition.com)
So, what are you waiting for? Just book your tickets, pack your essentials & enjoy your holidays to the fullest! Don't forget to share your insane experiences with the places by commenting on the box.