Top 10 things to do in Goa
Planning a friend's bachelorette party this year? Or maybe in need of boozing in one of the best Sunburn festival around the world? Want to escape the boring monotonous urban life of work and home? Well it is time your pack your bags for a trip to Goa, the land of booze and beaches.
Here at My Travel Trips, we give you the best thing to do in Goa this year!
1. Beach – Beaches are the main attraction in Goa. People from all over the world visit Goa for the beaches. In that respect, Goa has well over 25 beaches. As a thumb rule, the beaches in North Goa are more happening whereas the ones in South Goa are more quiet and secluded.
(image reference: holidayiq.com)
2.Basilica de Bom Jesus – This is one of the oldest churches in India. It gets its name from the Baroque type of architecture used in the construction of the church. It is a UNESCO world heritage site and is situated in Old Goa. It is also a very sacred pilgrimage site for Christians all over the world.
(image reference: makemytrip.com)
3.Fort Aguada – This was constructed in the 17th Century by the Portuguese to defend their land from attack by the surrounding rulers. The fort is situated near the beach and it gives a breathtaking view of the Arabian Sea and the surrounding land.
(image reference: thegoavilla.com)
4.Church of St.Francis of Assisi – Many of Goa's architecture is of 16th Century Portuguese type. The church of Assisi is present in Old Goa. It boasts impressive construction and remarkable sculptures.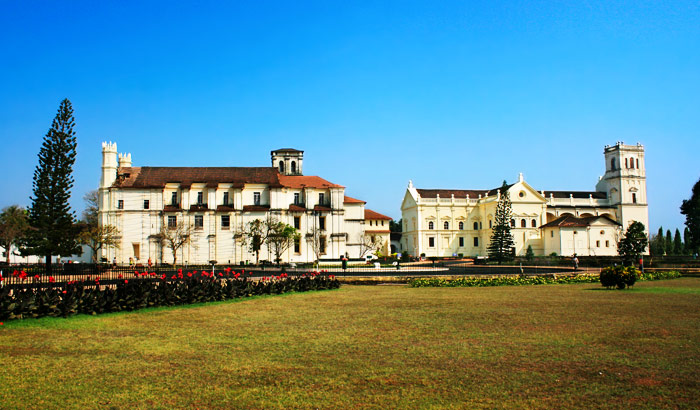 (image reference: makemytrip.com)
5. Dudhsagar falls – This is one of India's highest water falls. The falls gets its name from the milky white water that falls from a height of 310 meters. The falls is nestled in between hills and greenery about 60 kms away from Panaji.
(image reference: treksandtrails.org)
6.Chapora Fort – Another ancient fort in Goa, this one is situated on top of a hillock overlooking the Arabian  Sea from all angles. The fort is in North Goa and overlooks the Vagator beach.
(image reference: ohmygoa.com)
7. Sunburn festival – This is an EDM festival that happens in Goa every December. The festival happens in Candolim beach and is a combination of food, music, culture and entertainment. It was recently ranked as the ninth-best fest in the world.
(image reference: chandigarhmetro.com)
8. Church of Our Lady of the Immaculate Conception – Another popular church in goa, it is located in the heart of Goa. The Church is on a hilltop and you have to climb quite a bit to reach it.
(image reference: tripadvisor.in)
9. Dona Paula – if you want to get away from the hustle and bustle of the city, then give this small fishing village a visit. It is home to a lot of museums and is also home to the national institute of oceanography.
(image reference: trawell.in)
10.Cruise – If you bored of life on land, take a cruise out to the pristine waters of Goa and watch the sunrise and set. There are various river inlets in Goa that can be visited only through a cruise. This makes the cruise a unique experience.
(image reference: goaboatcruise.com)