10 Weekend trips under Rs 5000 from Kochi
Kochi otherwise known as Cochin attracts thousands of explorers and traders especially this has increased drastically in the recent years. It is located in the district of Ernakulum.  Some of the best places to spend our weekends are here.
Athirapilli :
(image reference: keralahoneymoons.com)
It is 73 km away from kochi and is oneoneof the best waterfalls in India. Athirapilli is one of the sort after tourist destinations in kerala.  The water falls from a height of 80 feet and offers you a wonderful scenic beauty. From kochi ther are buses which takes you to the Athirapilli in Chalakudy district.
Wagamon :
(image reference: vagamon.com)
Wagamon is a hill station located in Kottayam-Idukki border of Kottayam district of Kerala. It's a 3 hour journey from Kochi to Wagamon. While in Athirapilli it's the magic of water here you can enjoy the steep zig-zag road that line the tea plantations.
Allapuzha :
(image reference: pickmyholiday.com)
Are you a bit tired of walking to explore God's Own Country? How about a backwater cruise, enjoying the comfort of a luxurious houseboat? You can hire one from Alappuzha. Feel free and relaxed as your eyes, first lazily and then passionately enjoy the bewitching Vembanad Lake, the largest backwater stretch in Kerala. This will give you a refreshing weekend experience . It is  about 2 hour journey from Kochi to Allapuzha and lone travellers can choose bus and there are options of train too.
Thekkady :
(image reference: hoteltreetop.com)
You have to travel approximately 4 hours from Kochi to reach Thekkady. It  is located in Idukki district of Kerala. Known for its natures wild beauty is home for various types of animals and birds. A visit to the Periyr national park will be apt to add on for a nature lover.
Vatanapally beach :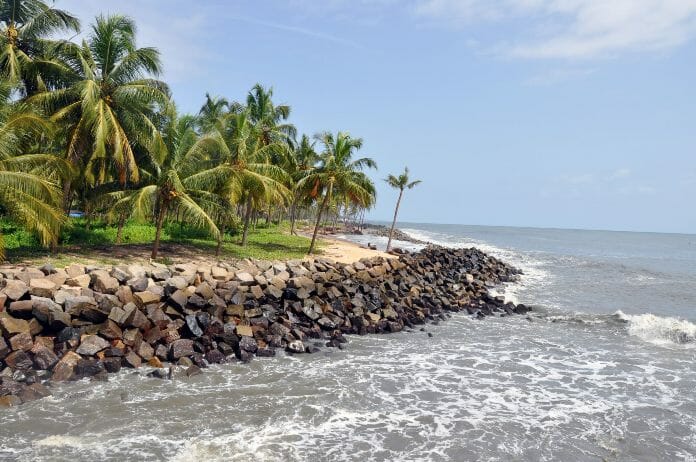 (image reference: solotravelerworld.com)
It is one of the beautiful beaches in Kerala. From Cochin international airport its 5l km away. Its located in Thrissur district. The best thing about this beach is that its clean unlike usual beaches in India. Adjacent to the beach there is a backwater too . You can enjoy the backwaters in a small wooden boat called vanchi.
Vazhachal waterfalls :
(image reference: en.wikipedia.org)
After Athirapilli this is the next waterfall usually tourists look for. It is about 77km away from Ernakulum . The nature lovers are bound to enjoy this trip. Vazhachal waterfalls are also located in chalakudy itself as Athirapilli. Both located in the edge of the Sholayar forest range. These trips will never give you a budget shock and are worth all your effort and time.
Kumarakom bird sanctuary :
(image reference: holidayplans.co.in)
If you are a bird lover and loves bird watching this you heaven and the perfect weekend destination ever.  To get a closer look at these birds which includes different species along with the migrants take a boat trip too these places Kaipuzha Muttu, Pathiramanal, Narakathara, Thollayiram Kayal and Poothapandi Kayal .  The visiting hours are from morning 6 AM to evening 6 PM. A visit between June to August will be apt as it is the breeding season of number of species of birds here.
Chimminy wildlife sanctuary :
(image reference: windonmyface.com)
It is just 3 hour journey from Kochi . The sanctuary is endowed with scenic beauty beyond compare. It is home for elephants, sambars, gaurs, Malabar squirrels, sloth bears etc. The forest department organizes trekking and bamboo rafting programs in and around the sanctuary. But the best of all experiences is the Moonlight Sonata, which involves rafting on full moon lights. These can be enjoyed at reasonable price of about 2000 at the most.
BEKAL FORT :
(image reference: keralatourism.org)
Now if you had enough of the scenic of the gods own country you can opt this trip to Bekal fort  which can give you glimpse of its past. From Kochi its about 2 to 3 hours journey to the bekal fort  situated in the Kasargod district of Kerala. You have one of the best views of Arabian sea from this fort which is about 300 years old and stays strong even now. It is one of the best preserved historical laces in Kerala.
Bolgatty palace :
(image reference: indovacations.net)
To reach this mansion you have to cross sea since it is located in a beautiful island called Bolgatty island.  It was originally built by the Dutch traders in 1744 and it's the oldest one of all outside Holland. It's the nearest of all the destinations as it I located in the district of Ernakulum , tourists first  opt to visit his picturesque island and the palace built in this beautiful island. It is just half an hour distance from Kochi