10 WEEKEND TRIPS UNDER RS 5000 FROM BANGALORE :
COORG – The land of coffee 
(image reference: holidify.com)
A trip to Coorg is the vest to have during weekends after busy tiring working schedules. By road it costs about Rs 300 and a road trip is the best to choose to enjoy the splendid natural beauty of the hill station. It is 240 km away from Bangalore. The Abbey waterfalls is bound to steal your heart and give a rejuvenating experience. The tea plantations are spread across the region and can taste the best filter coffee here. You can also have a visit to the nearby monastery which can be a spiritual experience.
KARWAR  – the beaches of Bangalore
(image reference: tripadvisor.in)
From Bangalore to Karwar its about 8 hours journey as we have to reach the western side of the state and it is about 530 km. By bus the travel expense will be about 1000 to 1500. Avoid the star resorts and enjoy the waters. There are dolphin spotting and various other sporting activities with reasonable cost. A boat ride from here will take you to small beautiful island called kurumkad which is a must visit in a Karwar trip. Karwar is bound to give you one of the best weekend getaways with family.
Nandi hills :
(image reference: thesplendidlifestyle.com)
This is a destination which can be reached within the shortest time and that will always stay in your budget. It is just 2 hours away from the main city and can always be chosen as a good picnic spot. The Bhoga Nandeeshawara temple here is mostly visited by all the tourists along with the hills. It is best to be visited in period from December to February when you can have the beautiful site of fog covered hill.
MUDUMALAI  WILDLIFE SANCTUARY :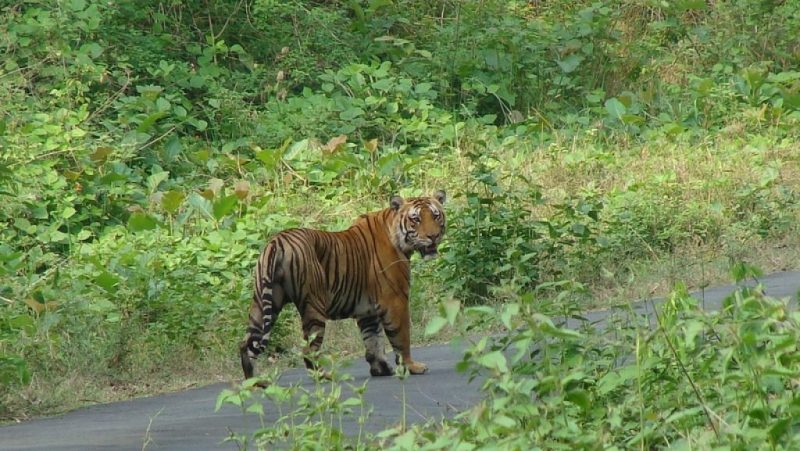 (image reference: nilgiris.nic.in)
The Mudumalai National Park and Wildlife Sanctuary also a declared tiger reserve, lies on the northwestern side of the Nilgiri Hills, in Nilgiri District, about 150 kilometres north-west of Coimbatore.
JOG WATERFALLS, SHIMOGA :
(image reference: eventshigh.com)
It is the second-highest waterfall in India and is also called Joga falls or Gerosoppa falls. It is about 6 to 7 hours journey and the best way to enjoy the trip is by road.
A Laser Light Show and Musical Karanji show is also held at the falls, everyday between 7:00PM and 9:00PM.
BHEEMESHWARI :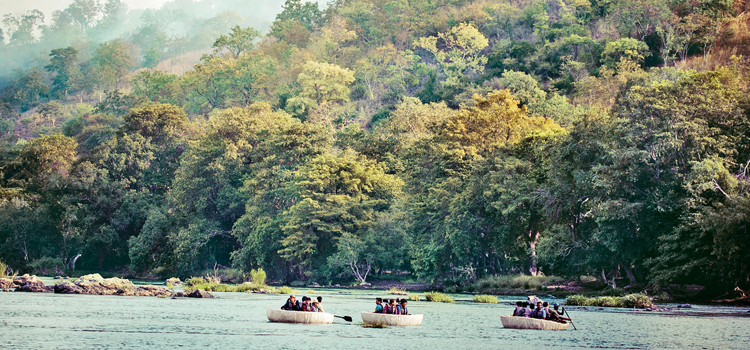 (image reference: lonelyplanet.in)
It's a nature and adventure camp which will be an apt choice for people who crave for an adrenaline rush during their weekends and to forget their daily life stress. The activities offered include trekking, coracle ride, mountain biking . If the activities do not come in the budget you can explore the woods and enjoy the greenery at the least. The picturesque views are unforgettable and will gift you a life time experience.
CHIKMAGGLUR :
It is a four journey from Bangalore to Chikmagglur with almost 250 km distance. The misty hills and the coffee culture that runs deep in the roots of this land is sure to mesmerize you. Avoid expensive resorts and enjoy the scenic beauty of the hills and you get the best climate if you are here in time of November to February. It is the heaven for coffee lovers .There are home stays available at reasonable cost and homely food available.
MYSORE :
(image reference: en.wikipedia.org)
From Bangalore to Mysore it is almost 4 hours journey covering about 146 km. A trip to Mysore is always budget-friendly and includes sightseeing and visits to numerous historical places. The beautiful architecture of the Mysore palace will make you spellbound. After being in Mysore if you didn't taste the well known Mysore pak it will be a loss. The fountain dance synchronized with music in Brindavan will steal your heart.
HAMPI :
(image reference: greavesindia.co.uk)
If you still have a thing for those by gone eras in our heart Hampi will be the best choice for a weekend destination. Hampi is city of ancient remains of palaces, sculptures and forts built in the Vijaya nagara  empire. It is 7 hour journey from Bangalore and buses are a better option with reasonable cost.
MUTHYALA MADAVU :
As the name suggests it is the 'valley of pearls'. The foaming waters resemble the pearls and it is an enchanting view to capture.  It is just 40 km away from Bangalore and it is the least expensive weekend trips one could have.