All of us have the best memories of traveling by various means of transport be it land, railway, air or water. Each journey is remarkable and memorable, for most Indians, train journey would be the best of all because of its innumerable memories that come along and Indian Railway reaches out to 30 million people across the country. It is a beautiful feeling to reach the railway station few minutes early accompanied by friends or families with snacks, magazines, musical instruments, and many more. If one is traveling during the day then fighting for a window seat is never a miss. For those who missed the best sceneries during the travel or planning for a vacation below are some of the best beautiful train routes to pick for traveling this time:
Kalka to Shimla :
(image reference: flicker.com)
This route might be a relatively slower way to reach Shimla but a must for those who enjoy feeling filmy because the pretty little trains on this route resemble toy trains that take you back to your childhood. It is 96 kilometers long with 102 tunnels and 82 bridges to pass and it has been included in Guinness Book of World Records for the steepest rise in the altitude in the span of 96km. The scenic beauty throughout the journey from Kalka to Shimla is a treat to your eyes and keeps you gaping at everything from Rhodendron forest, Deodar, pine trees, oak and valleys.
Jalpaiguri to Darjeeling :
(image reference: fiestroholidays.com)
This toy train route takes you on sequence of landscapes, climatic changes and sceneries. Darjeeling being the hill station serves the best tea in India and prepare for a trip by the Himalayas through dense forest, clear skies, and you can spot Kanchenjunga if you are traveling during the day. The mesmerizing smell of tea and tea pickers are just beautiful. This train runs on a meter gauge which isa proud UNESCO world heritage site since 1999.
Kanyakumari to Trivandrum :
(image reference: pinterest.com)
It is a short train journey that takes you through coconut grove and glides across Kerala and Tamil architecture. A different architecture all together can be witnessed throughout the journey. This train route is throughSouth India's picturesque locations.
Mandapam-Pamban-Rameswaram :
(image reference: travelkhana.com)
If you are planning for an adventurous train travel then this route is the one to fall in love with. It is known to be one of the most dangerous routes of India because it runs on a thin bridge. This bridge is known as the second longest bridge in India that connects Mandapam in Tamilnadu to the island of Rameswaram.
The Indian Maharaja-Deccan Odyssey :
It is one of the India's luxury trains which offers its travelers everything from luxury coaches, an Ayurvedic massage centre, beauty parlour, a library, conference rooms, a gym, steam baths and air-conditionedcoaches on its journey from Pune to Delhi and back. The train stops at main tourist locations from Ajanta Ellora caves to Taj Mahal.
Hassan – Mangalore :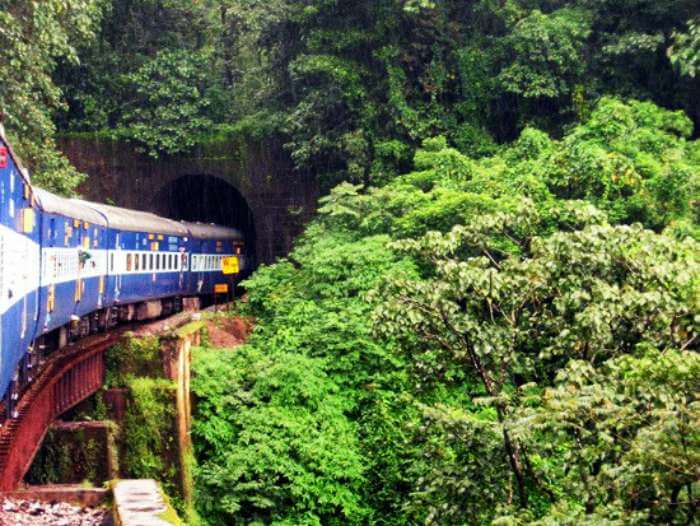 (image reference: theemergingindia.com)
This train route passes through 57 tunnels offering its travelers the best scenic beauty of misty mountains and waterfalls and paddy fields.
Gear u  for these routes to enjoy the glimpse of beautiful nature.